Jimmy Carter Says Venezuela's Elections
are "the Best in the World"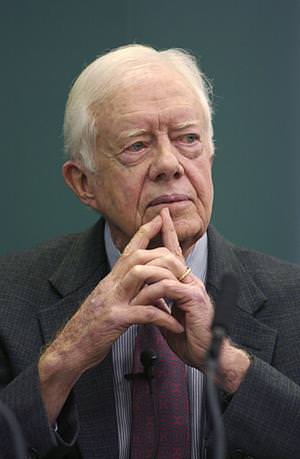 "

Of the 92 elections that we have monitored, I would say the election process in Venezuela is the best in the world

," former U.S. President Jimmy Carter said recently in a speech to mark the 30-year anniversary of his organization, the Carter Center.

Carter spoke on September 11 at the headquarters of the Atlanta-based organization in a live series broadcast online called "Conversations at the Carter Center."

Among the aspects of the Venezuelan electoral system that Carter highlighted are "a touch-screen voting system that both stores votes electronically and via paper ballots, allowing easier verification of the election results," according to an article in GlobalAtlanta.com.

These features to guarantee transparency, the former president said, make the country's elections "the best in the world," and ensured that in the last presidential elections in 2006 – which were observed by the Carter Center – Hugo Chávez won the popular vote "fairly and squarely."

Carter also offered his impressions of elections in the U.S., where an "excessive influx of money" has caused "financial corruption."

"Every other country has public financing of all the elections process. If you qualify to run for office, you get public financing and outside money does not affect the outcome of the election," he said.



Press Office of the Venezuelan Embassy to the U.S. / September 20, 2012


_________________
"

... Ustedes saben qué hacer. ¡Simplemente tomen el poder en toda Venezuela, absolutamente todo, barran a la burguesía de todos los espacios políticos y económicos y profundicen la revolución!

"